Welcome to my web site. On my site you'll find stories of my cars, both present and past under My 1967 El Camino, and my 1969 Concours, 67 SS396,

under

Other Cars. Links to other web sites and friends cars are found in the Links section. Although I am retired I'm always interested in other work so my résumé is available in the Resume section. Various items I may have for sale or that I want can be found in their respective sections. The Contact section can be used to drop me a line on anything you find of interest.
I also sell a 1966/1967 Chevelle Reference CDs covering both 1966 & 1967 Chevelles, 1966/1967 Factory Assembly Instruction Manuals on CD, and the Detroit Iron Information Systems CD for all years of Chevrolets. Click any disc image for information available.

My 1964-1972 Chevelle Data & ID Guide book available from Car Tech Books and Amazon.com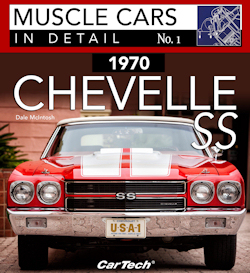 Now in editor review...
New project - 1964-1972 Chevelle SS Definitive Guide
Thank you for visiting!
LLast updated 09/03/2016